Update on California
Storm & Floods
Regarding 
Orders
The January Subscription Boxes 'Revealing the Scrolls' have one item that has been delayed in getting to us due to the severe weather issues that we have been having, due to routing and logistics.  It was lost en-route and we had to reorder a new batch since it still is not able to be located.  The latest the boxes are scheduled to drop at the post office is the 26th, when you will see a scanned notification come from your tracking via email, and we will have your accounts updated with ETA's on when they will be arriving.  All other items arrived to us safely and we are anxious to get them completed so we can send them out with the last thing. 
SHOP
As far as shop items, we will have all of your orders out quickly and we will have updated inventory posted over the weekend and updated by Wednesday. We have new wares, updated replacements for out of stock merchandise, and past boxes for December in the Wolf & Thyme and Bone & Steel themes coming.
Our Area..
California was hit hard with the Bomb Cyclone and our house, warehouse and workshop is between San Luis Obispo and Santa Barbara County.  We fortunately did not get any major damage, flooding or rain issues from the massive storm, and sustained only minor issues with fallen trees, flash flooding around town and some electrical issues.
Our surrounding areas however were badly hit with landslides, deep flooding, road closures, sink holes, power outages and more.  All of our beaches are shut down and are non-existent or very damaged, or getting cleaned up.  All of our towns are recouping from water damage and the roads are getting repaired, as well as large rocks/mud/trees getting removed.  
We are being very grateful and understanding, that we were not impacted personally more dramatically and we know that sometimes things happen since disasters and weather are unpredictable and the Universe just keeps making us 'wait' every single month.  It is a strange cycle of purging, renewal and letting go that we are in, and the lessons that we are learning from it, are profound messages.  
We hope that everyone stays safe out there, you are warm, well and taken care of.  We will keep sending you lots of self care, healing energy, and wisdom, and we will update you as soon as anything changes.
Many blessed moons.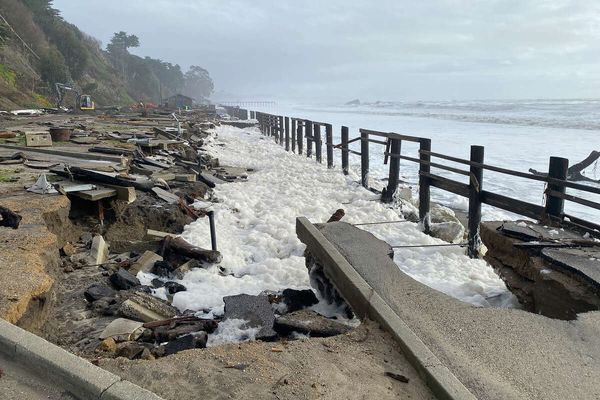 2023 Wolf & Thyme. The brand names, slogans, logos, service marks and other trademarks of Wolf & Thyme's goods, services and promotions belong exclusively to Wolf & Thyme.